Table of Contents
Hiring Struggles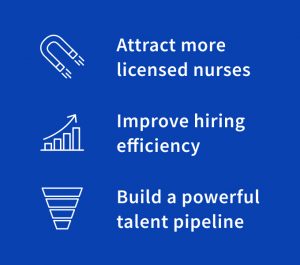 Hiring is never easy, but in today's tight talent market, Logan Treaster faces some unique challenges. A Senior Recruiter with significant experience and expertise in healthcare hiring, Logan is responsible for attracting and engaging skilled candidates across multiple markets for three distinct employer brands: Miller's Health Systems, Theracare and Home Health Solutions. 
With demand for skilled healthcare workers far outpacing the supply of available candidates, Logan and his team of two recruiters must manage a req load that covers the gamut from nurses to home health aides to administrative support. 
"Our biggest challenge in recruitment is attracting licensed applicants for our nursing and therapy needs," Treaster said. "There's a big nationwide shortage of nurses right now, so like every other hospital or healthcare facility, it's a struggle to attract licensed nurse applicants."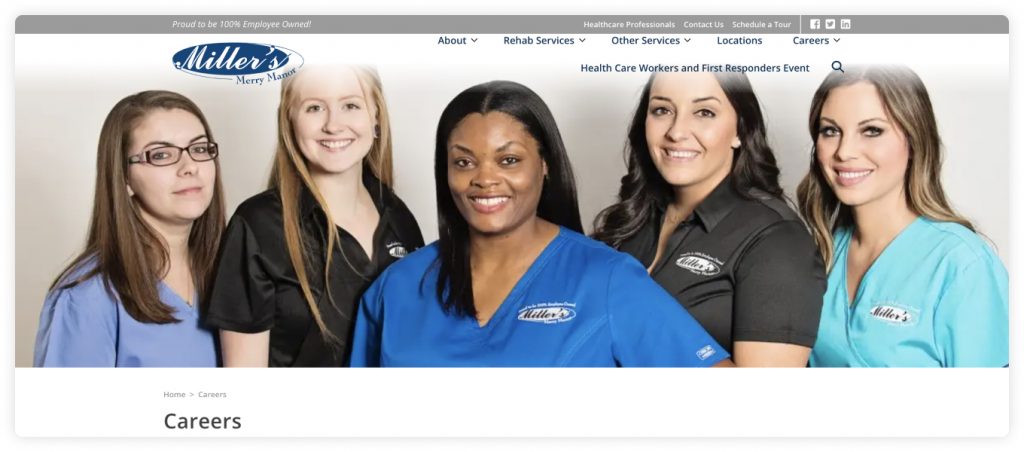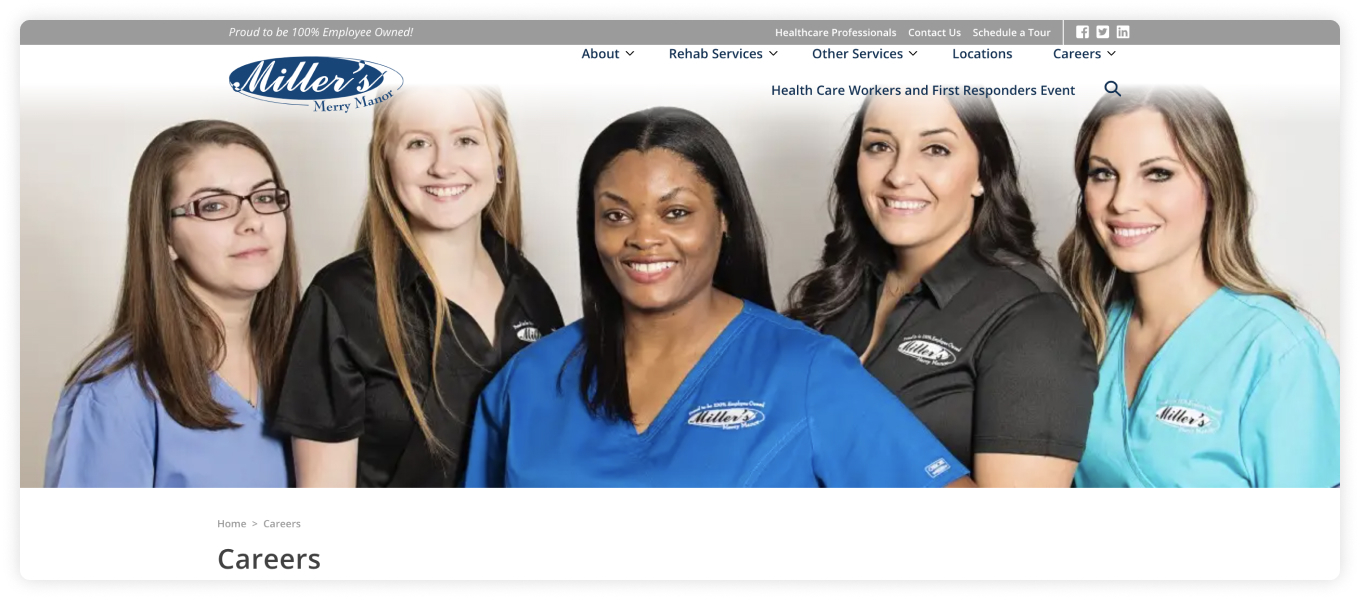 While healthcare remains one of the fastest growing and most in-demand industries out there, Logan's team blends recruitment marketing, job advertising, and sourcing to ensure that Miller's Health Systems can constantly build talent pipelines and fill the front end of their hiring funnel efficiently and effectively. 
While a lot of their work tends to be fairly straightforward – like posting open positions on job boards, direct sourcing, prescreening, and interview scheduling – it's their unrelenting focus on providing a world class candidate experience that provides a true competitive advantage when it comes to healthcare hiring. 
Of course, Logan and his team have a secret weapon when it comes to attracting the right talent at the right time, all the time. That's because Miller's Health Systems leverages SmartRecruiters Talent Acquisition Suite across their three distinct brands, providing a powerful talent tool to augment, extend, and automate their recruitment efforts. 
"SmartRecruiters has saved the recruitment team and our hiring managers a ton of time by making our current job postings and applicants easy to track and update throughout the recruitment lifecycle," Treaster said. 
"Using SmartRecruiters saves time by giving us a snapshot of all our recruiting needs across our facilities with a quick glance. Whenever I need to look back on whether a specific candidate applied or was hired, SmartRecruiters makes applicant and job information easy to find." 
Turning the Tide with SmartRecruiters' ATS
Since first starting their internal talent acquisition team in 2018, SmartRecruiters has partnered with Miller's Health Systems  to post jobs, track candidates throughout the recruitment process, schedule interviews, structure hiring manager feedback and continually engage top talent through SmartRecruiters' powerful CRM functionality.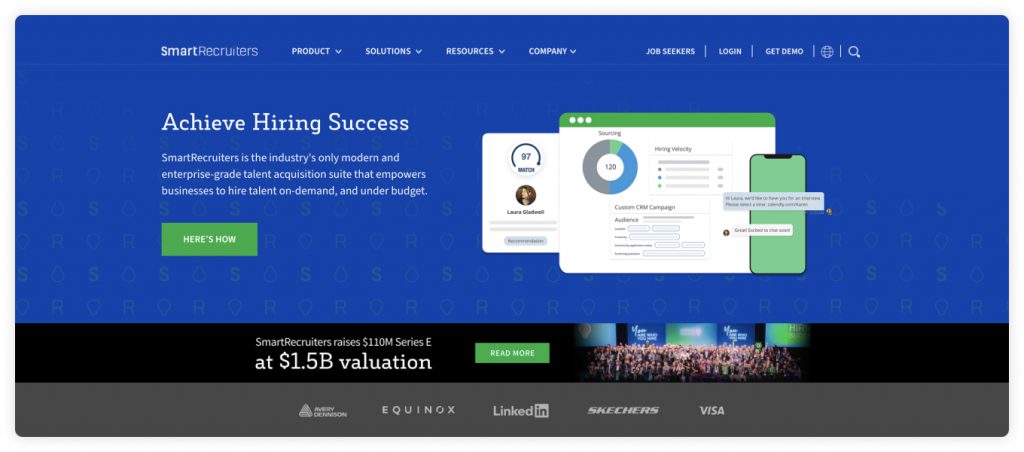 It's that combination of automation and personalization that have helped streamline and simplify how Miller's Health Systems finds talent, making their recruiting team more efficient and effective – which led to significantly better candidate experiences, happier hiring managers and better quality hires since implementing SmartRecruiters' solution almost three years ago.
"My team and the hiring managers love how easy it is to use and navigate SmartRecruiters. Posting a job takes 2 minutes and scheduling an interview is also a very simple process," Logan said. "Being able to leave notes and interview reviews in each candidate's profile makes it easy to track outreach attempts and rank your top candidates for each position. Training team members on SmartRecruiters is very simple given how accessible the system is."
"Adoption and ease of use are critical factors for Hiring Success at Miller's Health Systems, but it's the ability to combine high tech with high touch that really sets SmartRecruiters apart from other HR systems," Treaster said. 
By automating many of the highly manual, highly repetitive, and time intensive tasks his team has been tasked with, SmartRecruiters allows Miller's Health Systems to concentrate on what matters the most in recruiting and hiring: providing a world class candidate experience that's both scalable and sustainable.
"SmartRecruiters makes reaching out to new applicants very simple and efficient," Treaster said. "The email notifications we receive when a candidate applies immediately alerts us on which candidates we need to reach out to. We've got a department goal to contact all new candidates within 24 hours of applying, and SmartRecruiters makes it easy to accomplish this goal each and every day."
The Roadmap to Hiring Success at Miller's Health Systems
By partnering with SmartRecruiters, Miller's Health has seen dramatic improvements not only in hiring velocity – the number of positions filled on time – but also hiring NPS, reporting "very positive" feedback from internal hiring stakeholders and more engaged, better qualified candidates, something Treaster credits to "huge improvements" delivered through SmartRecruiters' CRM capabilities.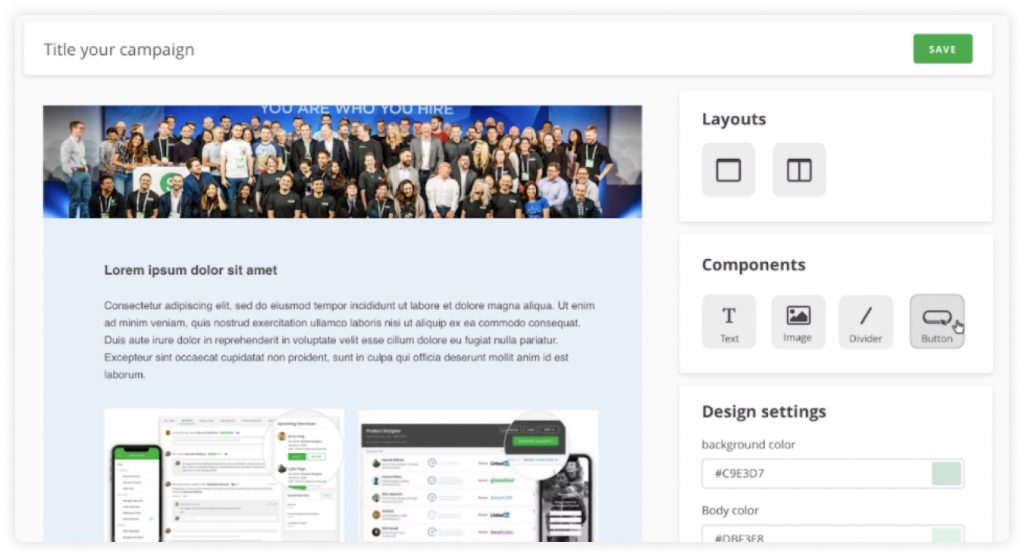 "We measure our success by process efficiency, time to fill and the number of hires we make every month," Treaster said. "Since we started using SmartRecruiters, we've seen a definite improvement in each of these areas … I do think SmartRecruiters helps individual recruiters and recruiting teams meet their individual goals."
Consider that since implementing SmartRecruiters, Miller's Health has almost doubled their applications per job posting, from 9-18, which is a critical benchmark given how competitive healthcare hiring has become. 

Furthermore, since implementing SmartRecruiters' CRM only five months ago, Treaster's talent pool has increased, adding over 10,000 prospects since November, a nearly 1000% jump. 
There aren't just more qualified candidates in their talent database, however, but more engaged candidates, too – Miller's Health reports that their personalized email campaigns have a staggering 46% open rate, but a conversion rate from passive prospects to warm applicants that's almost twice as high as Indeed, their principal source of external job advertising.
Furthermore, time to offer has dropped by around 20%, and the company has improved their offer to hire ratio to 77% – proof that partnering with SmartRecruiters not only creates real recruiting results and demonstrable ROI, but also, a competitive advantage when it comes to hiring – even in the most cutthroat and competitive industries, like home healthcare and nursing.
As impressive as these recruiting results are, however, Miller's Heath is even more excited for what's new, what's next and what's possible for the future of recruiting and hiring.
"We're looking forward to continuing our partnership with SmartRecruiters and continuing to grow and expand on our current recruitment strategies," Treaster said. "We want to continue to utilize the CRM and will likely be looking to explore additional SmartRecruiters add-ons as well. Our whole company has been very impressed with SmartRecruiters and we continue to be impressed with the continued innovation and improvement of the Talent Acquisition Suite."